Latest: Protection of Workers (Scotland) Bill will be debated on Wed 22 Dec 2010...
Click here to take action now!
Email all of your MSPs for support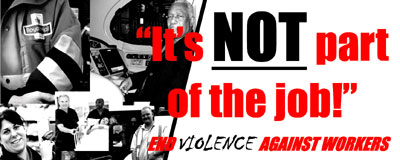 It's not part of the job - end violence against workers
UNISON Scotland wants to end violent attacks on public service workers
UNISON Scotland, along with other unions and the STUC, has supported Hugh Henry, Labour MSP for Paisley South, in promoting the Protection of Workers (Scotland) Bill. This will make it an offence for anyone to assault a public service worker carrying out their job or because of the job they do.
The Bill's first stage debate was expected to be in January 2011 but has been brought forward to Wednesday 22 December 2010 - this Wednesday - in the Scottish Parliament.
You can help by urging your MSPs (including your regional list MSPs) to support the Bill.
Send emails - click here
.