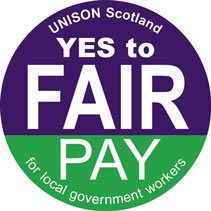 UNISON Scotland Local Government leaders have announced a consultative ballot of members in local government on pay. Make sure you get your ballot paper:
Click here to update your address details
The ballot will run from 9 June - 7 July. It will be a postal ballot to members home addresses and UNISON's Local Government Committee is urging members to support a full industrial action ballot.
Click here for updates
The Scottish Employers have rejected UNISON's 2014 Pay Claim for £1 per hour and consolidation of the living wage. It is their view that pay has been settled until April 2015. This is because, after UNISON members accepted a 1% rise in 2013 in good faith, the employers imposed 1% for 2013 and 2014.
Branches are urged to hold meetings of members from now till the end of the ballot period. The purpose of the consultative ballot will be to...
1. Consult members regarding the employer's rejection of our pay claim with a view to campaigning for and winning a ballot for industrial action in support of an improved offer.
2. Seek to build a campaign of engagement with members over the issue of pay with a view to developing a pay claim to be lodged in November this year for the period 1 April 2015. This to include promoting a number of pay related events throughout 2014.