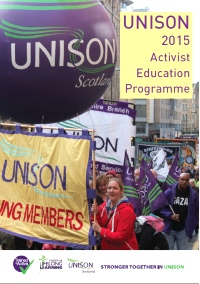 There are still places available on the following courses. To apply, get an
application form here
and contact your branch for approval.
Organising Stewards
– Glasgow – 30 June-1 July (part 1); 4-6 August (part 2) – 2 spaces available
Discussion Leaders
(residential) – Edinburgh – 3-5 July
This is the first course in the tutor training programme and covers the basics of facilitating discussions together with an introduction to various education methods. The course is open to branch officers and experienced stewards. Although this is a weekend residential course, applicants can attend as a day delegate.
Branch Leadership Module 2
, Managing the Branch – Edinburgh – 8 – 9 July. Attendance at one of the key Branch Officer courses (Branch Secretary, Chair, Treasurer, Education Coordinator, Equality Officer, Communications Officer) is required to be eligible to attend this course.
Negotiating Skills
– Glasgow – 14-15 July
Further Representation Skills
– Glasgow – 22-23 July
This course was formerly Representing Members and is the second course in the new stewards training path (completion of Organising Stewards is required to be eligible to attend).
ERA Refresher
– Edinburgh – 28-29 July
If you have any stewards/branch officers who have not attended any training in the last 5 years, this particular course or Developing Representation Skills or Negotiating Skills are essential to gain reaccreditation under the ERA.
Further information regarding these courses can be found on the course programme
http://www.unison-scotland.org.uk/education/courses.html