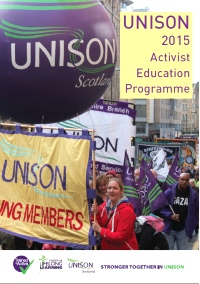 Apply now via your branch for the following courses that still have places.
· Organising Stewards – Dundee – 25-26 August (part 1) and 13-15 October (part 2)
· Union Learning Reps (ULR) – Glasgow – 31 August – 2 September
· Developing Representation Skills – Edinburgh – 2-3 September
Applicants must have completed Organising Stewards and Further Representation Skills to be eligible to attend this course, which was formerly named Advanced Representation.
· Absence Management & Capability – Edinburgh – 8-9 September
· Equality Reps – Glasgow (residential) – 11-13 September (delegates can attend as a day delegate if they wish)
· Regulatory & Fitness to Practice Cases – Glasgow – 15 September
This event will take the form of 2 briefings. In the morning Sam Oestreicher from the Professional Registration Representation Unit at UNISON Centre will present information on UNISON's internal protocols for cases such as those going to NMC/SSSC and other regulatory bodies. In the afternoon Thompsons Solicitors will explain their role in taking such cases in Scotland. This is an essential briefing for all Branches with members subject to Regulatory bodies and is open to branch officers and experienced stewards.
· Branch Leadership Module 3, Organising & Bargaining – Edinburgh – 15-16 September
Attendance at one of the key Branch Officer Weekend courses (marked * on pages 15 and 16 of the course programme) is required to be eligible to attend this next stage of the leadership programme.
Further information regarding these courses asnd details on how to apply can be found on the course programme http://www.unison-scotland.org.uk/education/courses.html