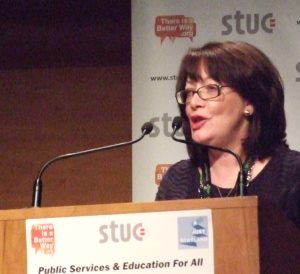 24 April 2013
UNISON's Equalities Officer Eileen Dinning hit out today at the casualisation of the female workforce in Scotland.
Interviewed on BBC Radio Scotland's
Newsdrive
, Eileen was commenting on new research in a Fawcett Society
report
.
This showed (as reported in the Scotsman
here
) that women have borne the brunt of cuts to public sector jobs.
The study warned that the number of women out of work is hitting a 25 year high. And it says the labour market will be characterised by "persistent and rising levels" of female unemployment, worsening pay and a widening of the gender pay gap.
Eileen, chair of the
STUC
women's committee, told BBC Radio Scotland that there is a major problem with an increasing number of part-time jobs, and women in zero hours contracts in the private sector, with underemployment having "a huge impact on economic activity".
She said that women's earnings are essential, but the pay gender gap persists and that the results of an STUC employment summit with the Scottish Government last year showed an increasing casualisation of the workforce.
One policy proposal from trade unions is for the Scottish Government to use the Procurement Reform Bill to ensure that public contracts have clauses that protect employment rights and extend payment of the Living Wage, both of which would help women in the jobs market.
The full interview is online
here
(just after 1hr 21 mins)
Eileen is giving
evidence
to the Scottish Parliament's Equal Opportunities Committee on Thursday 25 April.
UNISON's evidence to the Committee says that the following steps are required to address the current imbalance that continues to discriminate against women in the workplace and in accessing the labour market:
·
Establish through comprehensive research the current obstacles to flexible working;
·
Free and comprehensive childcare;
·
Addressing the universal health concerns relating to women and shift working;
·
Take steps to ensure that ALL
public authorities meet their obligations under the Equal Pay provisions of the Equality Act 2010;
·
Take steps to ensure that all public authorities have in place robust recording systems in order to fulfil their obligations under the Equality Act 2010 (Specific Duties) (Scotland) Regulations 2012 No. 162;
·
Call for employers to equality impact assess proposed changes to terms and conditions and avoid further discriminating against low paid women.
.