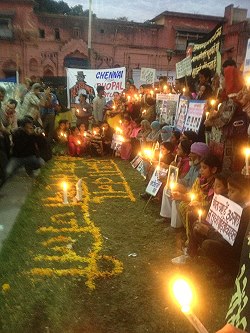 Update from Sam Macartney in Bhopal:
Yes I was on a demo in India, and I and all the trade union delegates to Bhopal were honoured and and very pleased to walk with familyies and friends of the Bhopal campaign. We had joined the demo after being shown around the Bhopal Sambhavna medical aid clinic and the great facilities they have and the excellent work they are doing to support the victims of their families.
The facility also includes a clinic for children who have been poisoned by Union Carbide. The clinic (Chingari) rehab clinic supports over 200 children who have suffered due to the poison from the chemical spill from the Bhopal plant. They offer help and support with support and funding from the Bhopal medical aid campaign it is so very important that this aid continues for all concerned.
You can donate to the Bhopal Medical Appeal by clicking here
Further reports will follow.
Sam Macartney, International officer, UNISON Scotland
The Chairs of UNISON Scotland's International Committee, Sam Macartney and Health & Safety Committee, Scott Donohoe are taking part in a delegation to Bhopal, India, to mark the anniversary on 3rd December 2014 to mark the 30th anniversary of the industrial disaster that has killed 25,000, left 120,000 chronically ill and continues to maim subsequent generations.
See the website for more details