#YestoFairPay Please help publicise UNISON Scotland's next Fair Pay Day of Action on Tuesday 25 June. Branches are campaigning across Scotland for Fair Pay for local government workers and Yes to Strike Action for Fair Pay.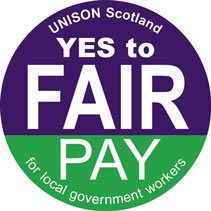 Also on 25 June, Our Fair Pay Day Family Fun and Rally in Dundee is part of the STUC's Austerity Uncovered There is a Better Way tour from 21-29 June.
Please support and help publicise this, and all the events on the Tour. You can circulate the details below:
UNISON Scotland Fair Pay Day - Family Fun and Rally
Tues 25 June Dundee
12noon Murraygate (outside Ladbrokes)
Speakers 12.45pm incl Stephanie Herd, UNISON, & Dave Moxham, STUC.
#YestoFairPay
Part of the STUC Austerity Uncovered / There is a Better Way Tour
#AusterityUncovered #STUC