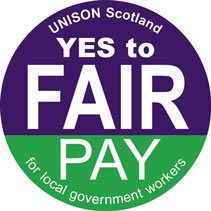 UNISON Scotland can confirm today that no members of the public service union will be handing back a knighthood.
The union confirmed that, unlike James Crosby, former chief executive of HBOS, none of the union's 160,000 members who work delivering public services across Scotland will be the subject of a meeting of the Honours Forfeiture Committee.
A spokesperson for UNISON Scotland said:
"Whatever embarrassment the disgraced banker now known as Mister Crosby

might

be feeling will, we are sure, be

eased by the fact that he still has a yearly pension of £406,000.
"Meanwhile UNISON members delivering vital services day in and day out are seeing the value of their wages decline dramatically.
"In fact, our local government members are balloting for strike action because they've had a pay freeze for two years and a measly 1% now just isn't enough."
(Former HBOS chief executive James Crosby has been formally stripped of his knighthood, the UK Cabinet Office has said.....
full BBC report
)
.